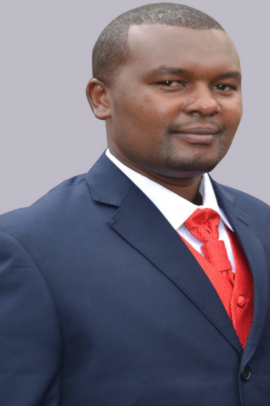 Kennedy Mwendwa was born on 24th April, 1984 at Kimia Village, Mutiswa Sub-location, Makueni County. He is married with two children. He joined Muambwani Primary School in 1990 and later joined Muambwani Secondary School in 1999 and transferred to Ngoto Boys High School where he sat for KCSE in 2003. He joined the University of Nairobi in 2005 to purse Bachelor of Arts in Building Economics and graduated with a First Class Honors in 2009. Kennedy was employed in 2009 by Aegis Development Solutions Ltd, a Quantity Surveying and Project Management Consulting firm and left in 2012. He was awarded a post-graduate scholarship by the University of Nairobi and was admitted in 2010 to pursue Master of Arts in Construction Management (UON). In 2019, he joined Africa Nazarene University and graduated with a Certificate in Environmental Impact Assessment & Environmental Audit. Kennedy was also employed by the University of Nairobi as a Graduate Assistant in 2011. He was registered and licenced to practice as a Quantity Surveyor by BORAQS in 2012. He is a Corporate member of IQSK. He served as a trainer with National Construction Authority from 2016 – 2017. He has served as a Board member of Wote Technical Training College from 2015 to 2019. He has served as a Board member for various Secondary Schools from 2012 to date. Kennedy is a Council member of IQSK (2020 – 2022)
Project Summary
AN INVESTIGATION OF PERFORMANCE OF PUBLIC PRIVATE PARTNERSHIPS TOWARDS PROVIDING LOW COST HOUSES IN KENYA (CASE STUDY OF NAIROBI CITY COUNTY)
Kenya is faced with significant housing deficit for low-income earners. Public private partnerships could therefore be considered as a possible alternative solution to address the existing shortage. The study sought to investigate the performance of PPPs as a mechanism of providing low-cost houses in Kenya. The objectives included; evaluating forms of PPPs used in Kenya, investigating benefits of PPPs versus Traditional Procurement Methods (TPMs) used in Kenya, identifying challenges facing PPPs and methods which would promote uptake of PPPs towards providing low-cost houses in Kenya. Questionnaires were administered to respondents drawn from public and private sectors.
The findings indicate that there was slow uptake of PPPs in Kenya. Design-Build-Finance-Operate-Transfer was mostly used form of PPPs. The benefits of PPPs over TPMs in order of priority were; timely completion and cost-effective projects, providing value for money, improved efficiency and utilization of modern technology. Challenges which have affected delivery of low-cost houses using PPPs in order of priority included; financial constraints, high cost of land, frail institutional capacities, low acceptability of PPPs by public and private sectors, inflexible regulatory and poor governance structures. The study further found out that policy framework for PPPs emphasizes regulation as opposed to promotion of PPPs and enhancing capacity of implementing agencies.
The study recommended enhanced budgetary allocation, establishment of housing fund, adoption of modern equipment and innovative construction technologies, creation of construction banks with favourable terms and conditions compared to commercial banks. The study proposed establishment of public awareness programs to stimulate the uptake of PPPs.
Supervisor
DR. ISABELLA NJERI WACHIRA-TOWEY
https://profiles.uonbi.ac.ke/kennedym/