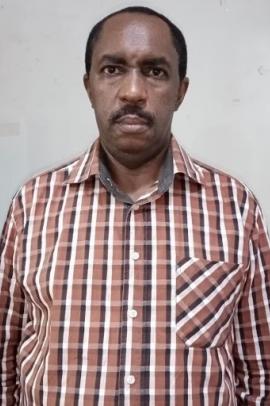 Njihia John Kabiru is a Land Surveyor currently working with Kenya Power & Lighting. He has more than thirty years' experience in land and engineering surveying. From 1987 to 1998 he worked with various construction firms in putting up infrastructure projects including dams, power houses and associated headrace & tailrace tunnels, water treatment works, water pipelines reticulation and roads among others. From 1993 to 1994 he worked for the United Nations Operations in Somalia (UNOSOM II), where he was engaged as a Building Management Assistant. His services included planning & supervision of the 800 Man camp at the former United States' embassy compound, construction of the sanitary sewer, water supply lines, installation of electrical cables and power lines, supervision of interior and exterior painting, installation of toilet fixtures and exterior furnishings, supervision of access roads, concrete walkways, stone drains, landscaping and maintenance. From 1998 to date, he has been working for Kenya Power & Lighting in the department of Design & Construction. He is involved in mapping proposed & existing electrical networks, setting out new pole positions & survey of the company's property boundaries. He holds a Diploma in Surveying & Mapping. He graduated with a Bachelor's degree in Business Administration in 2010 from Kenya Methodist University. He is a Technician member of the Institution of Surveyors of Kenya, Land Surveyors' chapter.
Project Summary
THE STATUS AND CHALLENGES OF UNIVERSAL ELECTRICITY CONNECTIVITY IN URBAN INFORMAL SETTLEMENTS, A CASE OF SILANGA IN KIBERA INFORMAL SETTLEMENT, NAIROBI, KENYA.
Access to electricity and connectivity has been a challenge facing informal settlements despite being receptors of new migrants to urban areas and cities. The electricity grid in Kibera is poorly connected, leaving many households and SMEs without formal power connectivity. The study sought to assess the status, connectivity challenges and planning interventions that could be applied towards universal connectivity in Kibera. The study used open and closed ended questionnaires to interview 161 households and 150 business premises. Key informant interviews and focus group discussions were conducted for the vulnerable women and youth groups. The study found that 84.9% of the households had electricity compared to 79.3% of the business premises. Electricity connection rate for both businesses and households was high along the main roads where electricity lines run and lower into the interior of the slum. There were both formal and illegal connections in the study area. Illegal connections were higher at households than for business at 6.1 and 4.2 percent respectively. High electricity connection fees and huge monthly bills were the major challenges to electricity connection in Silanga. Other notable challenges to power connectivity were the poor and unplanned housing structure layout, poor land tenure systems, denial of wayleaves consentsand inaccessible of the network due to the narrow streets. The study recommends subsidization of slum electrification programs, lower connectivity fees paid in instalments, relax application rules and through public participationand stakeholders' engagement upgrade the slums.
Research Supervisors
DR. ROMANUS OPIYO