The University of Nairobi (UoN) and International Finance Corporation, a member of the World Bank, have entered into a partnership on Wednesday 13th September 2023 aimed at increasing awareness of sustainable building design among university students and professionals, as well as promoting the adoption of eco-friendly construction practices in Kenya.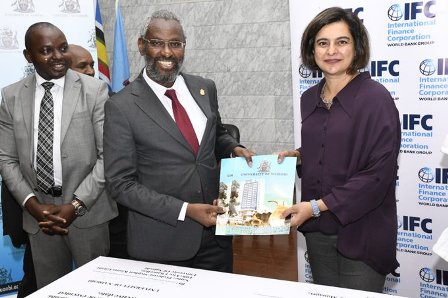 In this collaboration, IFC will provide training to UoN faculty members in order to deliver courses to students studying architecture, construction, and engineering. These courses will be based on IFC's Excellence in Design for Greater Efficiencies (EDGE), professionals working in fields related to sustainable construction will also be eligible to enroll in these courses.
The primary focus of "green buildings" is to emphasize environmentally conscious and resource-efficient design, construction, operation, and maintenance. Green buildings consume fewer resources such as energy, water, and materials compared to traditional buildings. They also produce less waste and pollution. This is particularly significant as cities in Kenya and worldwide expand and confront challenges related to climate change, water, and energy.
The EDGE module is part of IFC's Green Building Market Transformation Program, which promotes the construction of resource-efficient buildings in emerging markets. Additionally, UoN students will have access to IFC's EDGE web-based application, enabling them to estimate utility savings and calculate the payback period of green design.
During the partnership signing event at the University of Nairobi, Prof. Stephen Kiama, Vice Chancellor, expressed his excitement and stated that this partnership is a significant milestone for the institution. He believes it will have a lasting impact on students, faculty, and the wider community. The University plans to implement IFC's Green Building Market Transformation Program and EDGE Application, empowering its students with the knowledge and skills needed to become leaders in sustainable construction and contribute to Kenya's transition to a more sustainable future.
Amena Arif, IFC's Country Manager for Kenya, also emphasized IFC's commitment to promoting sustainable and green cities that reduce environmental stress and resource consumption. Equipping students with the knowledge to build sustainably is a crucial step toward achieving more sustainable and efficient urban planning.
The EDGE course has been offered in seven countries across 36 universities since its launch in 2019, including Kenya, Ghana, and South Africa in Africa.
The signing of the licensing agreement for the Designing for Greater Efficiency course was part of the official opening of the 22nd African Real Estate Society (AfRES) annual conference, with the theme "Pathways to Sustainable Real Estate Investment in Sub-Saharan African (SSA) Countries." The conference, which takes place from September 12 to September 15 at the University of Nairobi, has attracted over 200 delegates from across Africa and around the world. It explores the future of real estate research and education in line with the Africa Union's agenda 2063 goals, including topics like affordable and social housing, green building initiatives, sustainable real estate, and research priorities for real estate education. The conference is sponsored by various organizations, including IFC, the International Real Estate Society, the Royal Institution of Chartered Surveyors, Henley Business School – University of Reading, IRE|BS Foundation for African Real Estate Research in Germany, the University of Nairobi, and the Institution of Surveyors of Kenya.