Kyeni graduated with BA, Urban and Regional Planning with IT, in the year 2009 from Maseno University.
He is interested in sustainable urbanism and his masters research project primarily focused on Impacts of zoning regulations on sustainable urban neighbourhood developments. Kyeni is a registered physical planner and a certified EIA/EA lead expert in Kenya. Currently he is the managing director of Space Planners Ltd a planning consultancy firm based in Nairobi, Kenya. After Kyeni completes his Masters he hopes to pursue a doctorate and join academia or/and research institutions while actively engaging in public policy on matters sustainability
Photo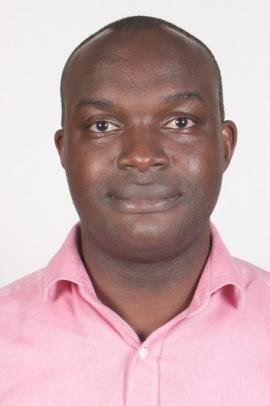 Project Summary
Impacts of Zoning Regulations on Sustainable Urban Development: A case of Riverside Neighbourhood, Nairobi, Kenya.
Research Supervisors
Prof.  Laban U. Shihembetsa
Dr. Maurice O. Oyugi
The research investigated the impact of zoning regulations on urban sustainability with specific case of Riverside neighbourhood of Nairobi. The objectives of the study were to document land uses and development densities occasioned by changes in zoning regulations for the neighbourhood; to establish the impacts of zoning regulations on water supply, sewer system, parking and road capacities and then evolve an alternative policy framework to guide developments in the neighbourhood. The study made an assumption that an increase in development density devoid of infrastructure expansion erodes the sustainability of a neighbourhood.
The nature of the study dictated that both qualitative and quantitative approaches be adopted with data collected from the target population which was the properties. It meant that different actors for the properties in the study area were involved for data collection.
The study established that zoning regulations have changed three times from the year 2006 with minimal infrastructural investments. Whereas densification has been fronted as a strategy towards urban sustainability, the study establishes that densification devoid of infrastructural growth coupled by mix of land use activities creates further urban challenges that hinder a neighbourhood's sustainability. The study found out that Riverside neighbourhood is experiencing densification with minimal infrastructural investments.
In order to ameliorate the situation and embrace sustainability for the neighbourhood the study came up with four recommendations notably: appraisal of the infrastructural requirement; planning and implementation; enactment of zoning policy a shift from ad hoc zoning regulations; land use integration and neighbourhood greenery policy.