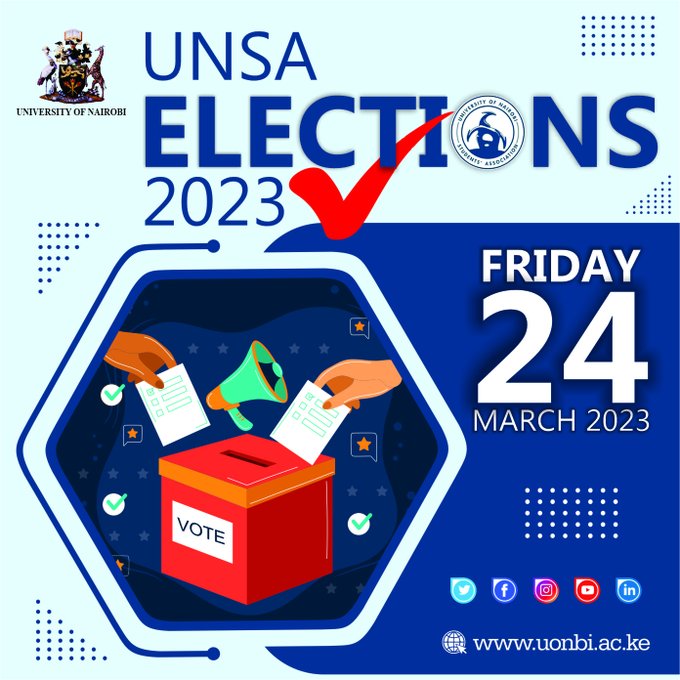 The University of Nairobi Independent Electoral Commission (IEC)  has announced the Elections for Faculties and Campus Students Association on Friday March 24, 2023. The Commission has also released election timelines for the next one month up to the date of the elections. Click here to download the timelines
In accordance with the provisions of Article 16 (1) and (2) of the UNSA Constitution, 2017 (Amended), 2021, the Independent Electoral Commission wishes to announce the commencement of UNSA 2023 electoral process for:
i) Faculties and Campuses Students Association to be held online on Friday, March 24th, 2023.
ii) The Student Council elections to be held at a date set by the Commission, immediately after the Faculties and Campuses Students Association elections as provided for in Article 16 (2) of the UNSA Constitution, 2017 (Amended), 2021.
Prospective eligible candidates and students are advised to carefully familiarize themselves with the UNSA Constitution, Page 2 of 2 2017 (Amended, 2021), and the Students Code of Conduct, (Revised) 2021, which are available on the University of Nairobi Website http://www.uonbi.ac.ke/downloads.
A soft copy of the UNSA Constitution has been circulated through your official University email address. The attention of candidates, their supporters and the entire student fraternity is drawn to the UNSA Electoral Code of Conduct 2017 (Schedule 4 of the UNSA Constitution) and to the UNSA elections offences and penalties 2017 (Schedule 5 of the UNSA Constitution) for their information and compliance. Any concern or clarification can be channeled to the Commission on unsa2023elections@uonbi.ac.ke or through the twitter handle @CouncilUnsa.