Abuya Dennis Omoga is a Registered Physical Planner with the Physical Planners Registration Board in the Republic of Kenya. He is currently working with the County Government of Kiambu as a Principal Physical Planner. He has interest in Urban Planning, Urban Management and general management of urban areas. He has further interest to further studies to undertake a PhD and research on urban areas.
Abuya Dennis Omoga has recently completed his Master's Degree in Urban Management and holds an Urban and Regional Planning degree from the University of Nairobi attained in 2010. From 2010 – 2014, Dennis Abuya served as Physical Planner in the private Physical Planning sector, before his appointment as a Principal Physical Planner with the County Government of Kiambu.  He has been credited in his involvement in preparation of County Spatial Plans, Integrated Strategic Urban Development Plans, Zoning, policy formulation and implementation, development control, advocacy planning through the publication of planning articles in the local dailies especially the standard newspaper and the publication of the research project in international journals.
His efforts and achievements, amid countless local challenges, have earned him International recognition in Physical Planning Profession. As Physical Planner in the County, he spearheaded operationalization of e-DAMS, an electronic development application system for processing development applications to facilitate approvals in the most efficient and effective way.
He is a corporate and active member in professional associations including, the Kenya Institute of Planners, Architectural Association of Kenya (Town Planners Chapter) and Town and County Planners Association of Kenya.
Photo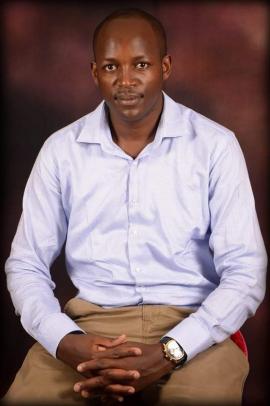 Project Summary
Management of The Effects of Land Use Changes On Urban Infrastructure Capacity: A Case Study of Ruaka Town, Kiambu County, Kenya.
Research Supervisors
Dr. Maurice Onyango Oyugi and
Dr. Edwin Oyaro Ondieki
Land-use change is a major driver to the effects of climate change and other socio-economic and environmental challenges, major challenge policymakers, planners and urban managers grapple with. Ruaka town is no exception as it faces high rapid land-use change with myriad challenges on the management of the effects on urban infrastructure and aggravated by inadequate inter-agencies, coordination and collaboration.
The study is an investigation of the effects of land-use changes on urban infrastructure (roads, water supply, and wastewater infrastructure). It seeks to answer the drivers of land-use changes and document the spatial-temporal land-use changes between the years 1988 to 2019, establish their effects on infrastructure. The study establishes a decline in vegetation and agriculture and rises in built-up areas which is partially contributed by urbanization and population growth in the area with major land fragmentations and land-use conversions. The findings reveal encroachment of development to vegetation and riparian reserves which expose the human population to disasters and calamities in cases of climate change. Lack of approved planning policy has encouraged massive land-use changes due to the ad hoc nature of planning using the development control tools which are not approved. The adverse effects on urban infrastructure include pollution and contamination of water sources, traffic congestion, use of unconventional onsite waste management practices.
The study concluded by evolving a management strategy to unravel the challenges through the promotion of a sustainable and resilient urban infrastructure. The strategies emphasize the technical, social, economic, environmental and jurisdictional dimensions.